Wednesday, June 04, 2003
•• Another Perfect Landing from Mr. Top Gun ••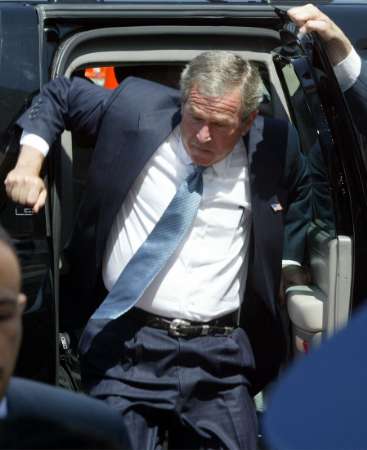 "If some tinhorn terrorist wants me, tell him to come and get me!
I'll be at home! Waiting for the bastard!"

Toronto Star political commentator and author Linda McQuaig reports that just in time for the 2004 Presidential election campaign, Americans will be privy to a "made-for-TV movie — filmed in Toronto this spring — of George Bush's heroic handling of the 9/11 crisis" that "is sure to help the White House further its two-pronged re-election strategy: Keep Americans terrified of terrorism and make Bush look like the guy best able to defend them."

Sadly, the films' writer-producer Lionel Chetwynd, is "a kind of west coast David Frum — a Canadian who has fully embraced the Bush revolution and even joined the administration (sitting on a White House arts committee)." [Emphasis added.]

Chetwynd and the American people by proxy, can thank the Bush Administration officials for their generous no holds barred access in order to portray Bush's heroic efforts with the utmost of accuracy:


In researching his film, Chetwynd reportedly had "lengthy" interviews with Bush and top officials, including Donald Rumsfeld, Andrew Card and Karl Rove.

This access is in stunning contrast to the short shrift the administration has given to serious attempts to investigate 9/11, including efforts by a joint Congressional inquiry, which was denied access to top officials.

The White House is currently blocking publication of most of the inquiry's 800-page report. It is also putting roadblocks in the path of the National Commission on Terrorist Attacks, which Bush initially resisted establishing, but agreed to, under pressure from 9/11 families.

Among the many questions needing answers: Why was the multi-billion-dollar U.S. military unable to muster any defence of the nation that day, not even sending U.S. fighters up to investigate the hijacked planes?


McQuaig reports that the made-for-tv movie "portrays Bush as decisive and in-charge on 9/11, commanding officials on Air Force One to take him to Washington" with snappy wild wild west dialogue doled out by Smirky:


"If some tinhorn terrorist wants me, tell him to come and get me! I'll be at home! Waiting for the bastard!"


Fortunately, McQuaig quickly snaps us out of the Bush Matrix:

Whoever was driving Air Force One apparently wasn't listening; as we know, the president was flown instead to Nebraska and only returned that evening to the White House, where Laura Bush was holding the fort.

Which reminds me: sometimes reality bites and the truth hurts, which of course, is something that Bush cheerleader cum writer-producer Lionel Chetwynd, will make sure never makes it to final cut.



**From the "I bet poor Mordecai must be rolling over in his grave" files: Mr. Chetwynd's debut screenwriting credit is as a co-writer with Mordecai Richler for the 1974 film starring Richard Dreyfuss, "The Apprenticeship of Duddy Kravitz" of which Mr. Richler is the author.






posted by voxpopgirl | 6/04/2003
---